This is YOUR "Motorized Schwinn Stingray"                  WORLD HEADQUARTERS 
"Love your work! The 3 speed with that shifter looks so bad ass/classy, the 24" wheel extended out, and basically everything else you do... Super clean looking and superb quality from all that I've seen. Like your motor mounts, there couldn't be a better engineered design. Everything you guys do is spot on with optimal design characteristics. I'm just super impressed!"  -  Jake F. / Arizona
---
This internet site is being developed to offer you everything you need to:   BUILD YOUR OWN "CUSTOMIZED" PedalChopper for an  ADULT, TEEN or PRE-TEEN using YOUR Schwinn STINGRAY Chopper Bicycle.
These Bikes cry out to be motorized!  Here at PedalChopper.com, we provide ONE STOP SHOPPING for ALL of the motorized bicycle parts, tools, etc. needed for your OCC Schwinn Stingray Custom Motorized bicycle builds!  Many parts do crossover and can be used on other style bicycles also....
OUR "Motorized Bicycle"  PROJECTS are prominently posted on this site and some are FOR SALE or can be built for you!   We expect that many people who visit, will see the extensive amount of Time, Tools & Materials needed in order to Motorize an OCC Schwinn Chopper and decide to have me BUILD IT FOR YOU!  
However, those of you who want to push on and build their own - we are here to provide everything you will need to do it right!  ...INCLUDING FREE TECH ADVICE! to our customers.
---
WE SHIP TO:  United States via our shopping cart and ...* To nearly anywhere else - worldwide - per request.   The shopping cart on this site does not know how to calculate  shipping prices for outside the [U.S.A.] . Please contact me at sales@pedalchopper.com and include a list of what you want and where you are located.  I will reply with cost estimates including shipping to your location.
---
BRAND NEW OPTION 2014 - 3 Speed Transmission - see photos below
*** NOW AVAILABLE - 3 SPEED TRANSMISSION [RETRO-FIT] KIT specifically for:                                 OCC Stingray & Schwinn  Stingray SPOILER -  first of its kind!                        FOR MORE INFO. CLICK HERE
---
recent project "Web"ster - click on photo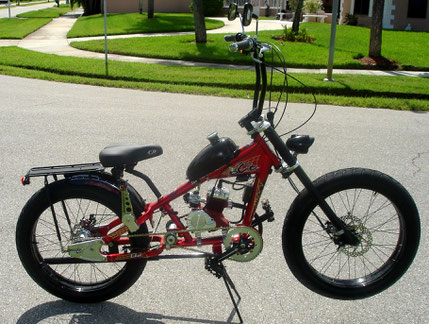 ---
  PEDALCHOPPER SHOWCASE BIKE
 Schwinn Spoiler S.S. TRI-POWER =                                        3 Sp. Bicycle / 3 Sp.  Gas / 1000 watt Frt. E-hub
Schwinn Spoiler S.S. TRI-POWER - click on photos to enlarge
3 Speed Bicycle w stickshift

* 3 speeds functional [jackshaft] w/gas motor
 * PedalChopper Edition High Performance 66/80cc gas motor
*E-Bikekit.com 48volt / 1000 watt front electric hub with disc brake
This Bike was commissioned by Chuck Brooks / Illinois
---
___________________________
---
 We currently have more than a dozen OCC Choppers  ready to be motorized.  We only sell our OCC Schwinn Chopper Bikes motorized... Our prices start at around $1,999.00 = nicely equipped [not including shipping]. Contact us to discuss the equipment you will want on YOUR "custom build".  We have lots of experience, we know how to build them right & tight, cool & fast!   
                           _______________________________________________________
Email us if you want our estimate for us to build a custom PedalChopper or any style "Motorized" Bicycle for you.  See our Gallery page  for samples of the different types of Bicycles we have converted.   

---
Contact us for more information.
We will ship to U.S. via shopping cart.  Canada and other locations upon request.  Or...
Contact ususing the form below or directly through sales@pedalchopper.com