PARTS - OCC Schwinn Stingray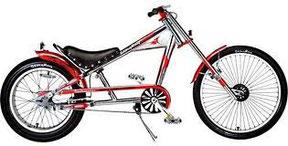 WE HAVE NEW! LIKE NEW! and Lightly Used! OCC SCHWINN STINGRAY PARTS. We regularly buy [NIB] New In Box & [NOS] New Old Stock & USED in Very Good Condition - OCC Schwinn Stingrays.  
Many times we do not use:  
Forks / Wheels / Saddles / Handlebars, etc... on our Motorized OCC Stingray projects.
So we normally have a lot of very nice parts in Stock, INCLUDING: axles, bearing sets, cranks, crank spindles - readily available... The OCC Schwinn Stingray has been out of production since 2005 so, replacement parts in New or Like New condition are difficult, if not impossible to find...
 If you need anything particular, write me in the form provided [Below]. You never know what we may have for sale. I will reply promptly and let you know what is available.
---
---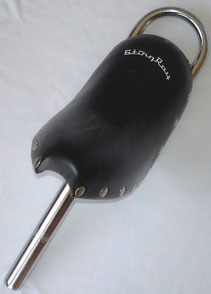 CONTACT ME IN THE FORM BELOW FOR AVAILABILITY OF SADDLES - Original Stingray SADDLES SELL AS QUICKLY AS THEY ARRIVE....
We buy many NEW, Like NEW and used OCC Schwinn Stingrays.  Since we adult size almost all of our "custom builds" we rarely use the stock saddle. 
All are (original) OEM replacement saddles in various conditions.  CONTACT ME IN THE FORM BELOW and let me know what condition saddle you are looking for #1  NEW OLD STOCK
#2  LIKE NEW
#3  Used in Good Condition
#4  ECONOMY - used but usable... 
---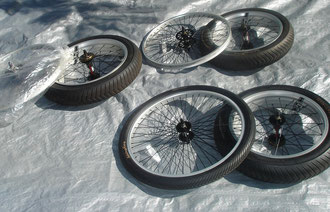 WHEELS, WHEELS AND MORE WHEELS!
On our "Custom" builds we do not use the front wheel - we use one of our hand built Disc or Drum Brake style wheels.  And now, since the completion of our "SUPERSIZED" 24 inch rear wheel Kit, we will not be using the stock 20"inch rear wheels either... 
So contact me for an estimate in the form below...  PLEASE DESIGNATE CONDITION [NEW OLD STOCK N.O.S. / LIKE NEW / USED in GOOD cond. / ECONOMY] = IN YOUR MESSAGE. I will reply promptly with estimates. 
Note: I have NEW and LIKE NEW front and rear tires for OCC Schwinn. 
---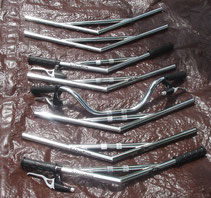 We usually have a variety of "Take-Off" Like NEW or NEW Handlebars... I have many other styles not shown in this photo,  Fill-in form [BELOW] with your specific request and I will reply promptly with price points and availability.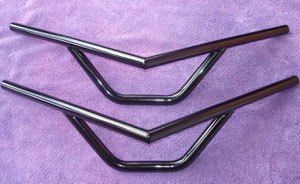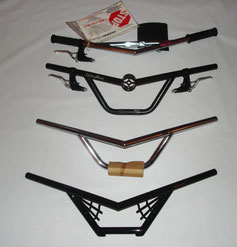 ---
CLEAN / RUST FREE! - NOS front forks for OCC Schwinn Stingray.
I have others not shown here.  However, styles, colors, etc. are limited so contact me to discuss exactly what you are looking for.
NOTE: I do have a limited number of studded forks so you can install a front brake on your OCC Chopper.
---
---
NEW OLD STOCK! various chainguards, rear spoiler wheels, studded forks, rear fenders, new tires, etc, etc...