FIVE (5) SPEED Retro-Fit Kit for your OCC Schwinn Stingray!
This "KIT" provides you with all of the misc. small parts, tools & instruction to simply, easily, inexpensively turn your OCC Schwinn Stingray into a 5 SPEED w/ Stickshifter!  Just like the original Stingray from the 70's!  GREAT Father & Son project!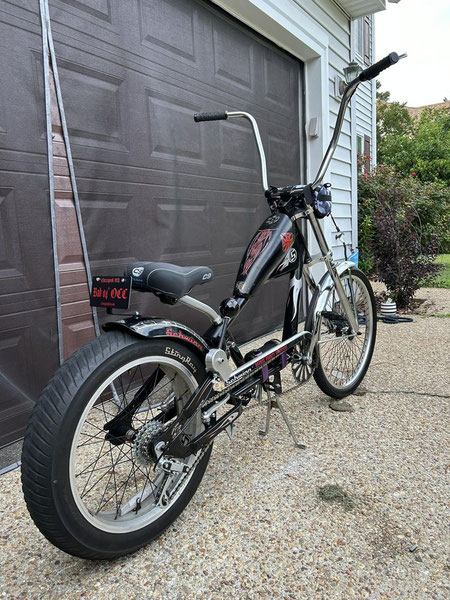 KIT INCLUDES: 
-> Step By Step instructions plus (+) slide show
-> 5 Speed Cog/freewheel
-> [NO WELD] Machined SHIFTER & Mounting Bracket
-> Axle Spacer
->15mm cone wrench
-> 18 Additional chain links
-> Chain Tool
-> Rear Deraillier w/ mounting hardware
-> Shift cable installed and cut to length
-> Chain tensioner pulley
***KIT ATTACHES TO YOUR STOCK WHEEL
                  [SEE SLIDESHOW}
     KIT DOES NOT INCLUDE WHEEL. 
WHEELS ARE AVAILABLE BY REQUEST
5 SPEED RETRO FIT KIT [COMPLETE]
3 lb
Available
Delivery in 5-8 days1
***SLIDE SHOW SHOWS STEP BY STEP INSTALLATION***
SIMPLE INSTRUCTIONS - SEVERAL STEPS but easy install...
Great! Got the 5 speed installed and having a wonderful time riding.  It really made a difference especially on the low end - seemed like I was trying to start off in 3rd gear with the stock setup - now  Smooth takeoff and shifting - have been challenging ALL the hills in my are WITH THE GREATEST RESULTS.  Am putting something together for facebookon what a great setup and ease of instillation using the slide show  --   Thanks  Dean