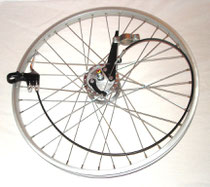 Now you can order items directly from PedalChopper.We are kicking off a new feature, starting with a handful of specialty KITS.
We are offering a heavy duty, handbuilt, front drum brake set.This is the solution for front braking for all you do it yourselfers who are working with the OCC Schwinn Stingray Choppers.This is the only place you can order this kit.
We are also offering a  great engine mount for the Occ Schwinn Stingray choppers.It comes with a nice exhaust pipe.
Find these item here   "Motorized OCC Schwinn AfterMarket Upgrades".
More items are soon to come.