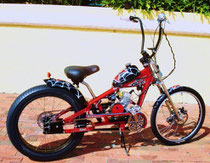 In July 2012 we will be advertising/offering our NEW Upgrade KIT that allows you to Lengthen the Frame on your OCC Schwinn Stingray and install our 24" X 4.25" inch Rear (Chopper style) Wheel.  This greatly increases the overall size and dimensions and allows an Adult / Teen to ride a bike that is COOL LOOKING but originally designed, sized for 
pre-teens.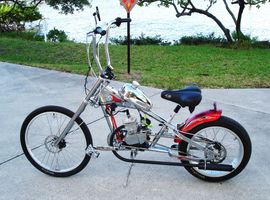 July / August we will be offering a HIGH QUALITY / Hard Chrome / Heavy Duty [complete] Front End Replacement KIT for OCC Schwinn Stingrays.
Combined these kits will allow persons upto and beyond 6' ft. tall to ride comfortably.