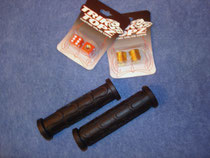 Looking for a little something for the bike enthusiast of chopper lover in you life? We have handle grips with flames on them [email us].Or what about valve caps? We have a nice variety to choose from... pistons, dice, eyeballs, dollar signs and more.How about a helmet or a fun mohawk to add to one?We also have light sets. You know he'd love a comfy, stylish new seat.
Still don't know what to get? You can't go wrong with a simple gift certificate.
Hurry, there's still time.