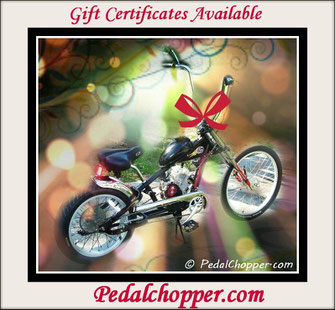 Are you looking for the perfect gift for him?Maybe he already has a motorized bike or wants one, but you don't know exactly what he would like. Perhaps you want to surprise her with a bike of her own. Pedalchopper.com offers gift certificates in any amount. Then he can choose exactly what he wants. If you are the gas bike enthusiast, you could always drop a hint and make it easy for them. The gift certificates are through PayPal, so you know they are safe.Did you know PayPal also offers the option to make payments?
Certificates can be in amounts to put towards parts and kits. Or you can give a complete bike build. Contact us to discuss the details or to make other arrangements.But make sure you contact us soon if you are looking for a complete bike build. A build takes time and we want you to have the bike on time.
Contact us directly or use the button in the side bar to purchase one through PayPal.
See what can be done here.