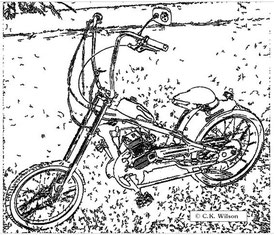 Just something fun today...
My wife just published an adult coloring book. If you'd like, you can see it here: "Coloring Therapy - Relaxation", by C.K. Wilson. While the picture to the left is not her usual style, she thought you might enjoy a free coloring page of a PedalChopper Stingray. Just click this link to DOWNLOAD.It should print up as 8x 10 picture. Use markers, colored pencils, or gel pens to see what your PedalChopper could look like in different colors. Or the kids might enjoy coloring it, too.
If you care to learn any more about adult coloring books, coloring for relaxation or stress relief, etc., you are welcome to visit her page at ColoringTherapy/wordpress.com.