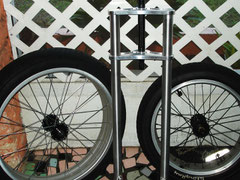 NOW AVAILABLE!  PedalChopper Edition: WIDE-RIDE Fork Kits.  Designed specifically for the OCC Schwinn Stingray but can be adapted to many frames.  Steering Tube currently upto 12 inches long and Fork tubes at 30 inches but longer available by request.

This kit allows  YOU to take a 20" inch x 4 1/4" inch OCC rear wheel off of a parts bike for instance...  Remove the freewheel and with our special "Screw on Rotor Mount fitting"  install a disc brake system to allow a Front Disc Brake Retro-Fit / Installation.  Contact me through sales@pedalchopper.com for more info.

Forks are $219.00 with Satin finished Legs as shown in photo.  Now into  Our 2nd production run the Fork Legs will also be available in durable Metallic Silver Powder Coat. For powder coat add $20= $239.00.  All yokes/triple trees are polished billet aluminum. 
We will be offering Black [powder coat] Fork Legs by the end of the month.

I am willing to mock-up your forks and cut to proper length for you prior to shipping.  Complete WIDE-RIDE Replacement front end available with Apehangers, HD alloy 4 bolt stem, complete disc brake [retro-fit kit] etc., contact me for a quote.